Місце проведення: Великобританія, Лондон, Dadiani Fine Art
Персональна виставка
2016.02.16 - 2016.03.25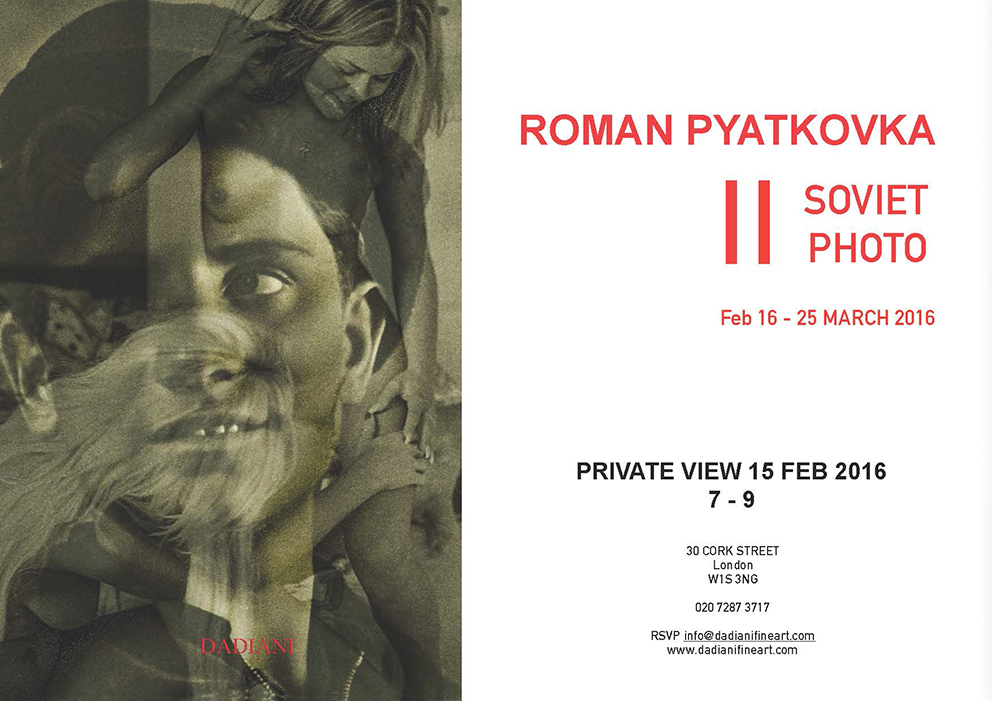 Опис
16th February – 25th March 2016
"I wondered what would happen if I were to combine these state-sanctioned pictures with my own underground work. It was a time when carrying a camera was enough to make you look suspicious in the eyes of the police, and when any depiction of nudity was considered pornographic. My aim would be for the viewer to reconsider and reflect upon this period of Russian history through these contrasting images." – Roman Pyatkovka
Dadiani Fine Art is thrilled to present a second exhibition of Roman Pyatkovka, one of the most innovative pioneers of Soviet and modern Ukrainian conceptual photography.
This exhibition showcases a rare selection of works from the series Soviet Photo (2012), following his successful Cork Street debut at Dadiani Fine Art in 2015. These poignant images consist of pictures and pages from "Советское фото" (Soviet Photo) magazine, the only photography publication available in the Soviet Union from 1926 to 1992. Like many Soviet publications, Soviet Photo was concerned with advancing Communist ideals. Pyatkovka, at the time an underground photographer, juxtaposed these state-approved images of various Socialist Realist clichés – a cosmonaut, a tractor driver, a collective-farm director, a seamstress, pioneers, a Party meeting – with his works and risked imprisonment doing so.
"Soviet Photo was part of an era that faded irretrievably" says Pyatkovka. "To assemble and scrutinise those images today means once again relive and rethink that time; a time of ephemeral ideologies and bitter disappointments. This series is comprised of pages and photographs from the state magazine "Soviet Photo" and my own personal underground work from the soviet period". 
Roman has exhibited worldwide, and much of his work is displayed in museum collections including Multimedia Art Museum (Moscow, Russia), National Centre for Contemporary Arts (NCCA, Moscow, Russia), Ken Damy Museum (Brecia, Italy), Museum of Contemporary Photography (Chicago, USA), Moscow Museum of Modern Art (Moscow, Russia), The Navigator Foundation (Boston, USA).
It was this project, and these images in particular that won him Conceptual Photographer of the Year award in the 2013 Sony World Photography Organization awards. He has been a member of the National Society of Photo Artists of Ukraine (NSPAU) since 1989.